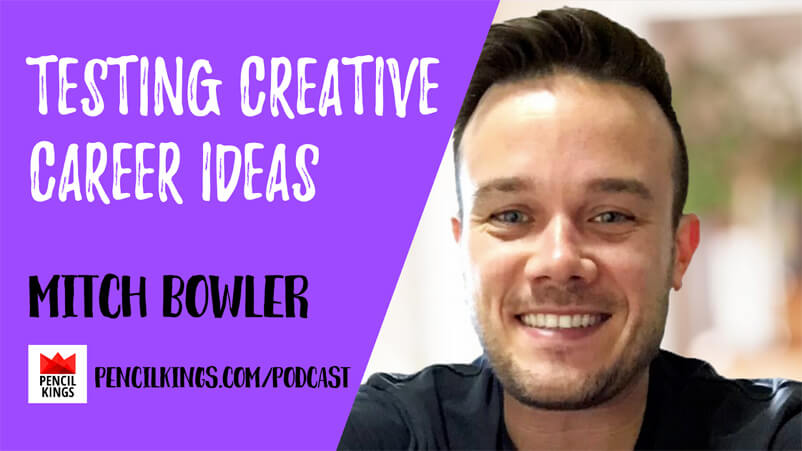 Mitch Bowler is the Founder of Pencil Kings and the Co-founder of Evolve Artist. He has worked with countless companies, including Pixar, Marvel, Dungeons & Dragons, Activision, and more. As a former 3D technical artist, Mitch has gone through the ups and downs of honing his craft, which is why he decided to revolutionize the way that art is taught. Both of his companies offer professional instruction and hands-on support from real artists in order to help creatives around the world take their work to the next level.
Here's a glimpse of what you'll learn:
Mitch Bowler makes a distinction between the skills you have as an artist versus the skills you need for a creative career
How to evaluate your skills based on the creative projects you find most exciting
Mitch shares an example of how to investigate different career paths
How to find your true calling as an artist: follow the path of least resistance
Mitch's take-home challenge: think about how you could make a real-life creative project better than it currently is
In this episode…
What skills do you need in order to start making money from your art? While many artists focus on creative skills such as drawing or painting, these are not always the most important skills for landing your dream creative career.
According to Mitch Bowler, exploring and developing the skills that are in demand for creative projects is a necessary step for making your artistic dreams a reality. But, how do you know which creative skills are in demand—and which ones will be the right fit for you? Mitch Bowler has some tried-and-true strategies for testing different career ideas, discerning project-fit, and taking simple steps to find your creative calling.
In this week's episode of Pencil Kings, host Mitch Bowler demonstrates how you can discover—and develop—the skills necessary to land your dream creative career. Mitch shares his strategies for identifying which skills are in demand for creative projects, how to find your calling as an artist, and the simple ways to unlock new possibilities for your creative career. Stay tuned for more!
Resources Mentioned in this episode
Sponsor for this episode…
This episode is brought to you by Evolve Artist, a breakthrough online training system that aims to inexperienced talent to become world-class artists.
If you're interested to explore and expand your artistic nature and to maximize your potential as an artist, there's no better way to do that than to sign up with Evolve Artist.
We'll provide you with all the materials you need to enjoy a do-it-yourself study at home. The premium oil paint we use is supplied by Old Holland, and everything will be shipped right to your doorstep no matter where you are in the world.
To learn more about our courses, visit our website to find out how you can join Evolve Artist today so that you can be the artist you were meant to be in your own home.